TECHNICAL TRAINING
Training has a vital part in the support provided to you by JA Delmas and Saudequip: it is a guarantee of people's safety. It is also the insurance that the task will be completed in perfect conditions and with ideal application and productivity conditions.
A COMPREHENSIVE AND PROGRESSIVE TRAINING PACKAGE
To adapt to the different training our technicians need, our courses are divided between three main groups, according to the trainees' context and assignments. For each one's circumstances, these courses can be taught in our training centre or on your operating sites.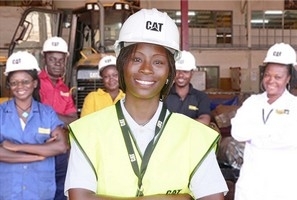 It allows them to gain the knowledge and skills that are required to successfully and efficiently service and operate your Caterpillar machines.
It gets them to explore the basic modules they assimilated deeper, particularly the ability to analyse, master new technologies and catch up the changes to our products.
it provides the expertise and knowledge they need in order to use your equipment in the optimum and safest way. For greater efficiency, it is recommended that those modules are taught on the actual site, in the actual conditions of the tasks to be undertaken  and with your own equipment.
REGIONAL TRAINING CENTRES FOR LOCAL SUPPORT
As a symbol of the dynamic and importance given to training in JA Delmas and in the member of its network such as Saudequip, the Mathieu Lindor Regional Training Center was inaugurated in October 2013, in Abidjan, Ivoiry Coast.
The issues about the development and growth of our team's skills are the very core of our strategy. All means necessary are available on site, and so are the technical and pedagogical resources, as all of this is about being operational and efficient:
Individualized monitoring
Adapted training plans
Simulators and tools dedicated to training
Computer labs and testing ground
Partnership with technical schools on site
Complementary to our Regional Training Center based in Abidjan, establishments dedicated to national needs are implanted in Burkina, Mali, Mauritania and Liberia. Moreover, our training teams, specialized experts on equipment and software, intervene in all West Africa's countries.
Download a presentation of the Training Centre