CONSTRUCTION & FORESTRY
HIGH PERFORMANCE ON ALL TERRAINS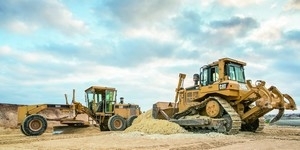 Every day, Caterpillar equipment and solutions prove their worth on our customers' construction sites and in conditions as varied as complicated:
Construction: Buildings, earthworks, roads and tracks, infrastructures,
Mines: Production of chippings, cement works,
Forestry and farming
Industrial activities: Agribusiness, port handling, waste management.
GENUINELY ADAPTED SOLUTIONS FOR YOUR PROJECTS
The Cat range is the most inclusive in the world, and with it, Saudequip, member of the JA Delmas Network in Senegal, develops expertise and advice tailored to your requirements, no matter what your business or your industry is. We support you at each key stage of your projects: audits and preliminary studies, fleet sizing, equipment selection and best configurations, staff training...
Saudequip develops solutions which fit perfectly your work environment and your demands, should you choose new, used or rental equipment.
THE SAUDEQUIP PARTNERSHIP: PROXIMITY AND RELIABILITY
Present in Senegal since 1903, the Saudequip agencies and workshops are here to offer you troubleshooting tips on whichever situation.
Our technical assistance, close to you and capable, is provided with Caterpillar certified technicians. They are here to accomplish complex maintenance or to support your operations.
Our technologic solutions assist you in monitoring your hardware: directive solutions specially designed for Cat equipment or distant management (through an embedded system).
Conducting sites operations or audits, our experts in nonstop improvement support you in optimizing the production maintenance and costs.
Our training centres are here to develop our staff's skills in order for them to optimize their knowledge about the equipment: pipework for special equipment, maintenance and servicing procedures.
We offer servicing packs, tailored or bundled to meet your needs.
When it comes to construction, forestry or industrial projects, Saudequip has the knowledge and expertise of a genuine partner who you can rely on at all times. Our business, your success.